Family Night Suppers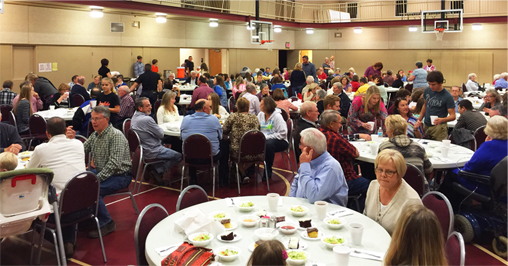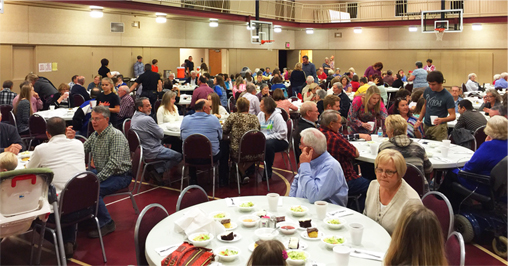 Family night suppers are a chance for families to fellowship within our church, as well as to connect to those outside our church.  During the school year, before Wednesday night activities begin, we have a supper open to members and guests.  We see this as a time for fellowship together, as well as a time to meet and know our guests.  Visitors can attend their first time free of charge, while we ask our members and regular attenders to contribute toward the cost.
Schedule and Costs
Join us on Wednesday nights from 5:15-6:00 for a time of fellowship and a good meal!
$3.00 for individuals 5 and up.
Chicken Nuggets will be available for children's meals.
Please make or change your reservation by the Sunday prior.
Please see our weekly bulletin for current menus.
Family Night Supper Policies
In order for us to be faithful in our stewardship of all church resources, and for the safety of everyone we serve, our Family Night Suppers will adhere closely to the following policies:
1.  Family Night Suppers will begin at 5:15pm and conclude at 6:00pm.  Our ministry staff and their families will be served at 5:00pm, in order to give them more time for their respective tasks that evening.
2.  We will prepare enough food on a given Wednesday to feed those who have made RESERVATIONS by the Sunday prior.  The reservation list will be checked as individuals enter the CLC.
3.  We will work diligently to protect those who are allergic to nuts (all kinds).  We will not prepare menu items that include nuts, and we will scrutinize all ingredients to ensure that they neither contain nor were processed alongside nuts.
4.  All individuals who are not scheduled to assist with meal preparation or cleanup must remain OUTSIDE the kitchen during the Family Night Suppers.
5.  Access to the upper level of the CLC will be restricted to adults only during Family Night Suppers.