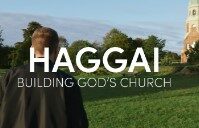 Haggai: Building God's Church
DAVE CORNES
Description
'"Be strong, all you people of the land," declares the LORD, "and work. For I am with you," declares the LORD Almighty… "And my Spirit remains among you. Do not fear."' (Haggai 2:4-5, NIV) This was God's promise to His people as they set out to rebuild the temple. It's still His promise to us, as we build His church all over the earth.
In this four-part series, leader and communicator Dave Cornes challenges our priorities and spiritual apathy, reminding us that God has given us a purpose: to be part of the most magnificent building project imaginable, the church. Consider this a wakeup call. Allow the Holy Spirit to stir up your devotion to God's work again. It's not going to be easy, but He has given us everything we need, and we have nothing to fear. He is powerful. He is present. And He will build and bless His church.
---
Getting Started
Starts June 26. 4 Sessions. Complete one session each week.
This course has a study guide. You can find it located above next to course under the green progress bar. Click on materials and then click on Study guide for Haggai: Building God's Church. This study guide can also be viewed on the Haggai: Building God's Church RightNow Media Page. The study guide is set up to be used as a discussion guide but is still a great additional resource. It is not required to complete the course. However, some of the information from the study guide will be in our guided lessons and for use as further study.

Please remember you need a free RightNow Media account and be logged in to your account to watch the session videos and open the study guide.

At the end of each Session there is a lesson entitled Overall Thoughts. This will be a reflection that you will submit about one thing you would like to share about the lesson.